Description
If you are looking for a black linear pendant light for your boardroom, office, bar, dining area or a high ceiling in a hallway or other room then the LPL160 40 watt black LED pendant ceiling light is a great option for larger rooms.
This long hanging pendant light features 40 watt SMD LEDs with an output of 3200 lumens which is the equivalent of a 300 watt halogen light.
This light is made of high quality aluminium with nice smooth black finish. This light measures 1200mm long, 120mm wide and 40mm high. This light also has 120 degree angle.
This black linear pendant light comes with a 1000mm adjustable cable so you can shorten the cable if you need to do so. This light is not dimmable, so it is best used in areas where you need a strong light.
You do need an electrician to wire your black linear pendant light into your 240 volt electrical main. This light is rated IP20 since it is designed for indoor use only. Since the LPL160 uses the very latest in LED technology this hanging pendant light provides you with a minimum of 20,000 hours of excellent bright light. In addition, this hanging pendant light is highly energy efficient costing less to operate than more traditional lighting sources. The LPL160 is also low maintenance since there are no light bulbs to change and it is exceedingly energy efficient. This light also comes with a 3 year guarantee.
High quality SMD LED's
40 watt total LED power
3200 lumen light output – approx equivalent to a 300 watt halogen lamp
3 year guarantee
Not dimmable
IP20 rated for indoor use only
Manufactured from aluminium and finished in black
Comes with 1000mm drop cables that can be adjusted to height
Measures 1200mm long – 120mm wide and 40mm high
100-240 volt AC input
Summary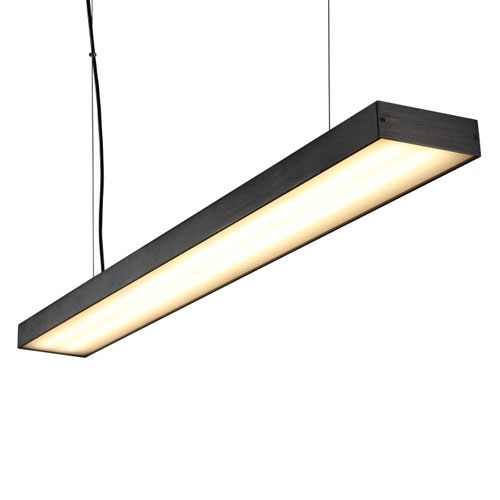 Author Rating
Brand Name
Product Name
LPL160 40 WATT BLACK LED PENDANT CEILING LIGHT