LED track lighting is an ideal choice for businesses, especially retail environments. With commercial track lighting, you can shine illumination on a specific location or merchandise, drawing attention to them. LED track lights are also commonly used in home environments as display lighting. Below, we will answer some commonly asked questions regarding track light fittings.
How Is LED Track Lighting Installed?
Track lighting systems are available as kits to make installation easier, and individual pieces are also sold to customize applications as needed. The most important parts are the proper length or lengths of track and parts called joiners.
Using joiners, track lighting can be made to go around 90-degree corners using connectors. One of the best advantages of track light systems is that you will only need to have mains power at one end of the system. Doing so will feed electricity through the rest of the track, which will make it easier for the electrician to install. This is because they won't have to add a lot of supply feeds.
From there, you can choose the light fittings you'd like to use and then simply click them into place. Then, they can be moved around and the lights can be positioned anywhere you would like them. This makes track lighting kits incredibly flexible and diverse.
How To Use LED Track Lighting in the Home
As mentioned, retail track lighting is not the only way you can use this type of lighting. There are plenty of opportunities to use LED Spotlight track lighting in the home, such as in a:
Hallway
Using track lights, you can turn your hallway into an art gallery. Whether you hang family pictures or actual art that you have purchased, you can turn track lights into display lighting to shine on the individual pieces. To eliminate the risk of shadows, mount the track lights at least 18 inches away from the wall to create a nice glow.
Track lighting can also be used to illuminate long, dark hallways thoroughly. By lining them up vertically along the ceiling, you can bring the light from end to end beautifully.
Kitchen
You can use track lighting in the kitchen as task lighting. It is an ideal choice for this purpose, thanks to the multidirectional illumination and powerful lighting capability. You should mount the track lights right on the ceiling and aim them at work surfaces and other food preparation areas and appliances.
Bedroom
Using track lighting in the bedroom, you can shine the lights on the wall behind the bed. This will not only put focus on the bed area but will also provide a soft glow that is comfortable to relax by as opposed to using a bright lamp or overhead light.
Low Ceiling Areas
To prevent low ceilings from making a room look cramped and dark, you could use ceiling track lights. Ceiling track lighting usually draws the eye upward, thanks to the fact that tracks are subtle and thin, so they won't add any additional depth to the ceiling.
Various Rooms
If you want to accent certain features of rooms in your home like unique walls or sculptures, track lighting is a good way to go. You can use them as accent lights around the perimeter of an area that is architecturally interesting to draw attention to it. You could also point them at bookcases that contain travel souvenirs or trophies you want to display.
How To Use Track Lighting Fixtures for Retail Lighting
Shop display lighting is one of the most common uses of track lights. Retail lighting is especially important because in poorly lit shops, it can be difficult for customers to browse the different items for sale, which could impact profits. Therefore, it is important to create an environment with limited shadows that work to highlight key areas of the store.
Commercial track lighting is usually seen on the ceiling lining walls and shining lights on those displays. They are also commonly used to shine down on display cabinets and end caps to draw attention to the items on display. Many shop owners like LED track lights because the light heads can be turned to face in different directions depending on what is currently on display. Just as important as the angle of the light is the colour temperature that you choose. It is generally better to go for cooler lights rated with a 6000k.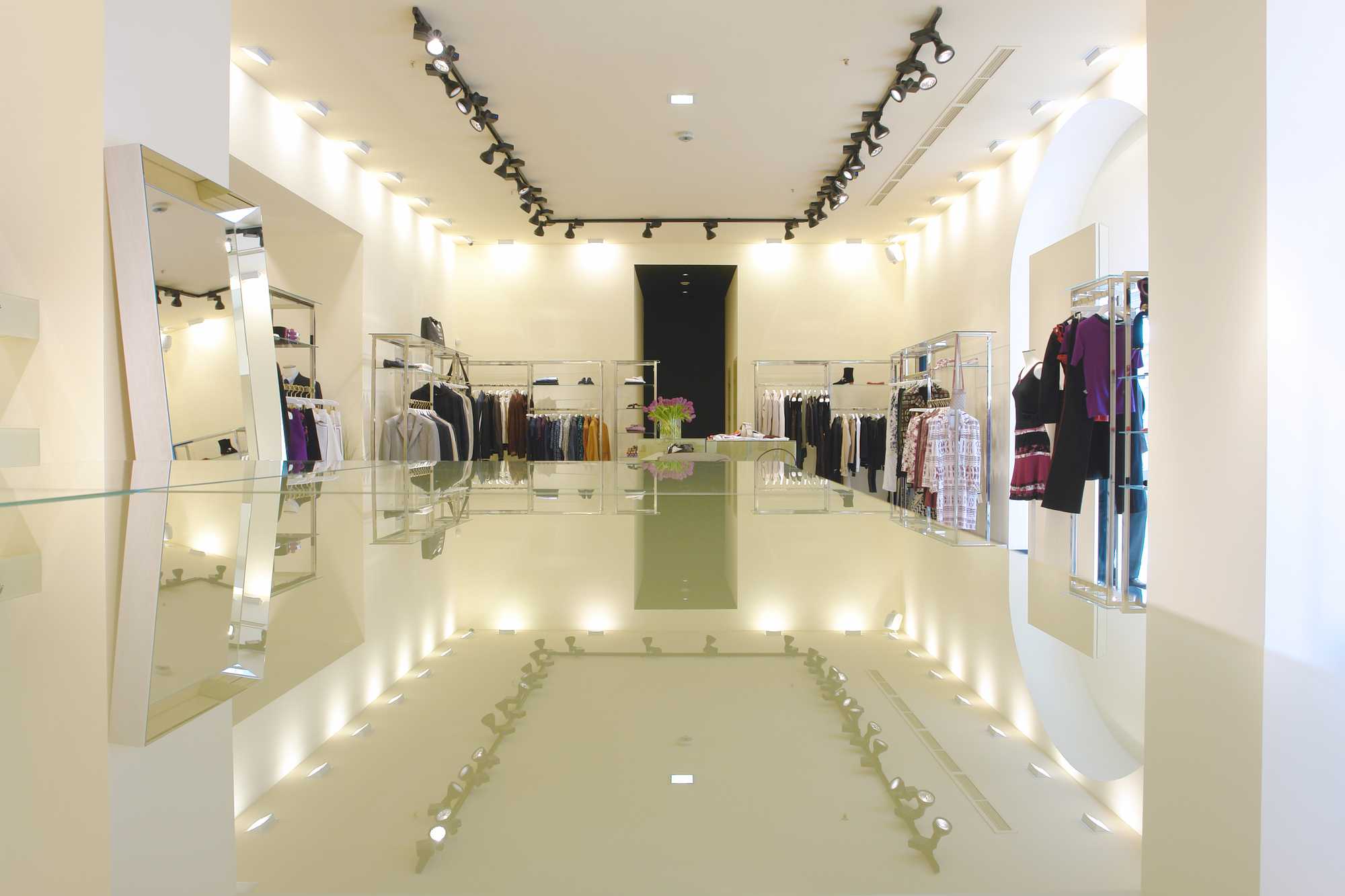 How To Use Track Spotlights to Light Art Galleries and Museums
Ceiling track spotlights and picture lights are commonly used in museums. Lights that are mounted on the wall or to the frames of different paintings will bring light up close and personal to the artwork. This will create a sense of intimacy in front of the piece and draw viewers in closer to get a better look.
Suspension ceiling-mounted accent lights are exceptional for shining light on a larger span of space. They are used to illuminate areas around the art as well as the art itself and therefore sit further out from the painting. When installing this type of lighting, it is important to angle it so the lights hit at an angle of 30 degrees in the centre of the art. From any other angle, you risk a glare on the painting.
Mounting track lights further away from the art can help light the entire gallery and make it all easier to see. These lights can open up the space and make it feel brighter and more welcoming for the guests. With a well-lit gallery, you can create a more modern and contemporary look. The same can be said for museums.
What LED Light Colour Is Best For Ceiling Track Lighting?
To get the best possible accuracy in representing the true colours and appearance of items in a retail setting or gallery, it is generally recommended that you choose cool white light. This light is typically rated 6000k and won't diminish the colour like warmer lights will. On the other hand, warm lights tend to be preferred in home settings. This is because warmer light is cozier and gentler on the eyes, making it more welcoming for domestic settings. Usually, this light is rated around 3000k.
Lighting can really set the mood in any given space, but it can also disrupt it. Whichever light temperature you choose for your applications, be sure you don't combine different temperatures within a space. Combining warm and cool lights can create a clashing effect that is unpleasant to the eyes. Decide which is best for your space and then opt for one or the other.

How Much Energy Can You Save by Using LED Track Spotlights in Commercial Installations?
One of the biggest draws of LED track lights is how energy efficient they are. LED lights, in general, use less power to provide the same level of illumination if not more than halogen and other traditional bulbs. Because they require less electricity, you can expect to spend less on your power bills. Using LED lights instead of traditional lighting stands to save your energy usage by as much as 75 percent.
LED lights also produce less heat, so the air conditioning systems in your shop or home won't have to work as hard to keep the temperature at a comfortable level. This, too, will save you a lot of cash on your energy bills.
You can save money in other ways, too. LED lights are usually rated to last at least 20,000 hours, whereas halogen bulbs usually only give you 1,000 hours. Because you won't have to constantly be replacing your lights, you will save money on your initial light purchases as well.
Five LED Track Lighting Ideas To Consider
If you are interested in creating a more modern-looking space with your track lights, the LSP226 5 Watt GU10 Hexagonal LED Track Lights are a good option. These lights feature hexagonal-shaped LED light heads. Such crisp lines and angles make the lights as decorative as they are practical, so they look nice even when they are not turned on. Since the track is black, it won't clash with the decor in the space. The light heads are also available in neutral black, white or silver, so they can be incorporated easily into any space. With options of warm or cool LED light, they are appropriate for both home and retail use.
If you prefer to keep it simple and minimalistic, these LSP228 16 Watt Slim Style LED Track Lights can work for you. These track lights are small and disc shaped with a thin body that does not draw a lot of attention to them. Their size, paired with their maneuverability, makes them especially ideal for art galleries and retail shops. They can shine light on specific items without distracting from what you are trying to draw attention to. Their white and black colour options make them versatile to be worked into any space regardless of colour scheme.
Those who like their lights to make as much of a statement as they do illumination are sure to love these LSP195 16 Watt Black And Gold LED Track Lights. These lights have a black cylindrical body that is finished with gold-coloured trim along the top. The colour combination is a regal one, making it an artsy visual choice in any space. They may be best used in art galleries or in the home in locations that you want highlighting illumination.
With their large cylindrical bodies and unique texture, the LSP190 20 Watt LED Track Light Fittings will draw as much attention to themselves as they will whatever you are shining them on. As eye catching as they are practical, these ultra-modern lights are perfect for any space that needs an upgrade in terms of appearance while also providing plenty of light to see by. They come in black, silver or white finishes, so you can work them into any space regardless of the decor.
Sleek, smooth and neutral in colour, these LSP176 30 Watt LED Track Light Fittings are perfect for any retail, domestic or gallery space. They are subtle enough not to draw any extra attention to them while still being sleek and beautiful enough to work well in high-end locations like art galleries and restaurants. Their neutral colour finishes of black, white or silver make them quite versatile and capable of fitting into any space of any colour scheme.
Final Thoughts
LED track lights are a versatile way to light homes, retail shops, art galleries and beyond. With their simple, changeable installation properties, their subtle appearance and their many ways to light a space, they are becoming more and more popular as time goes by. This is well before one even considers the energy efficiency of LED lights over traditional lighting options. Above, we touched on these points while also providing a look at five LED track light fixtures to give you some ideas when planning your own installation.