LED pendant lights are a timeless way to add illumination and style to a room in equal measure. They are versatile and can be worked into almost any room, making them a sensible choice of ambient lighting. Below, we will take a closer look at LED pendant lighting.
What Is LED Pendant Lighting?
A pendant light is a light fixture that is suspended from the ceiling by way of an adjustable-length cord, a metal rod or a chain that intertwines with the wiring. It is believed to have gotten its name from the fact that it hangs down, dangling like a pendant on a necklace.
Pendant lights are good for moving light from the ceiling to eye level, making them ideal for ambient lighting. Pendant lights are increasingly popular as a statement of modern decor. Because they are so varied and versatile, you can incorporate them into practically any style of decor.
The difference between hanging ceiling lights like chandeliers and hanging pendant lights is that a chandelier has multiple bulbs that are worked into only one fixture. A pendant light has just one bulb worked into the fixture.
Where To Position Pendant Lighting and How To Determine the Length of Its Drop
Pendant lights are most often placed in the center of a room, made to move the light across a wider area of space.
This is argued to not be the best idea. When there is only one pendant in the center of the space, it can cast shadows across the room, which can make the space feel smaller. If you want to position it in the center of the room, you can spread the light out more easily by just layering it. Add some wall sconces or table lamps to help bring light evenly around the room.
When it comes to its length, as a general rule, a shorter cord usually looks more modern, while longer lengths tend to look more formal and traditional. There are a few more specific points to keep in mind depending on where you are hanging the light:
KITCHEN PENDANT LIGHTS. If you are placing the lights above a kitchen counter, you should give the light at least 20 to 36 inches of clearance from the counter.
DINING ROOM TABLE. The light should receive a 30- to 36-inch minimum clearance above a dining room table. This is especially true for rooms with standard eight-foot ceilings.
It is best to keep the light around six feet clear of the pathway, so you don't have to worry about taller people knocking their heads on it. At the same time, this will still provide adequate lighting.
HALLWAY AND ENTRY PENDANTS. Here, you will also want to hang them just above or at eye level. The rule about giving enough clearance for taller people also applies here.
Hang the lights at or right above eye level like you would the other lights mentioned above.
How To Use Hanging Pendant Lighting in a Dining Room
As mentioned, if you want to hang pendant lights over a dining table, be sure to give it 30 to 36 inches of clearance above the table. You can customize the height in your specific space by beginning with how you want it to look while sitting at the kitchen table, when you are seated elsewhere and when you walk into the room.
When lighting a dining room, you should also be considering the style that you want to use as well. Modern pendant lighting is a current trend and should be considered when designing your room. Types of pendant lights include:
MINI PENDANT LIGHTS. Hanging clusters of pendant lights over a dining room table can yield inviting, modern results. One mini light usually won't be enough, but you can add some serious wow-factor to the room by grouping multiples together.
DRUM PENDANT LIGHTS. If you want to give your pendant lights a more stately and regal look, drum lights are a good choice. Choosing an oversized drum pendant light can really add to the appeal. The same can be said for using a large lantern pendant light to give the room a timeless, antique look.

LARGE AND MEDIUM PENDANT LIGHTS. Create a sculptural look in your dining room with large pendants. Choose big bell-shaped metal pendants for an industrial modern look or choose something simpler if you want it to be a feature of the room instead of a focal point.
SUSPENDING THEM LINEARLY. Hanging pendant lights in a row can create a modern, fresh look while shining plenty of light across a wider area.
LIGHT SMALLER DINING TABLES. To make a pendant look its best over a small dining table, it's best to use a single pendant light hanging in the center.
ODD NUMBERS. The look of odd numbers of pendants, usually three or five, over a counter, island or bar gives the room plenty of personality.
How To Use Hanging Pendant Ceiling Lights in a Kitchen
As mentioned, you want to keep a minimum clearance of 30 to 36 inches between the bottom of the light and the top of the kitchen counters. In these long, wide areas, you can take advantage of the way odd-numbered pendant lights will look. If the island is short, around six or seven feet, you should space the pedants at least 30 inches apart. For larger islands, you can light it well with three pendants. Place one right over the island, and then space the pendants out 30 inches on either side.
If you want to make a more dramatic statement, you can change the heights of the fixtures to create a staggered look. The drama is also quite modern and will elevate the overall atmosphere of the room. You can also choose to use one long pendant, but be sure you layer the room with other lights like plinth lights. This will bring the light down and help prevent the pendant from casting shadows.
Can You Use LED Hanging Ceiling Lights in a Bathroom?
Pendant lights can certainly be used in bathrooms. Some of the most common areas for hanging pendant lights in the bathroom include:
Centre of a vaulted ceiling
Centre of a small bathroom
To the side of the vanity/mirrors
Above the vanity or mirrors
Low-traffic areas
The only thing to consider is that there are some safety points to keep in mind when installing pendant lights. There are different zones in the bathroom that require different levels of protection. The IP rating determines how well the light is protected from dust and moisture.  These are known as IP ratings, or ingress protection ratings. The first digit of the IP rating indicates how well a light resists solid objects. The ratings are as follows:
0 – No protection offered
1 – Protected against damage by solid objects 50 millimeters or more
2 – Protected against solid objects that measure 12 millimeters or more
3 – Protected against solid objects that measure 2.5 millimeters or more
4 – Protected against solid objects that measure 1 millimeter or more
5 – Protected against dust
6 – Completely dust tight
The number you should be paying the most attention to in a bathroom is the water protection, which is as follows:
0 – No Protection
1 – Protected from vertically falling water droplets
2 – Protected from any water that falls at an angle of 15 degrees onto the light
3 – Protected from water that falls at an angle of 60 degrees
4 – Protected from projection and splashing
5 – Protected from water jets with low pressure
6 – Protected from water jets with high pressure
7 – Protected from temporary immersion
8 – Protected against long periods of time immersed in water
Can LED Pendant Lights Be Dimmed?
Most LED lights can indeed be dimmed, but it should not be universally assumed that every single one is. You should always check if the light is dimmable before you buy it; if you connect a non-dimmable LED light to a dimmer switch, nothing will happen. At the worst, the bulb could be damaged. If the light is dimmable, you will definitely need a dimmer switch to be able to use the light to its full potential.
Creative Ideas for Hanging Pendant Lights
Below are a few ways to consider lighting your home with LED pendant lighting:
With its circular shape and cylindrical top, the LPL364 5 Watt Hanging LED Pendant Light is an ultra-modern addition to any area. It is particularly well suited for hanging in odd numbers over kitchen counters and islands. The minimalistic appeal and neutral colour choices make it simple to add to the decor of any room without clashing.
For a modern light that plays up the beauty of wood, try the LPL350 4 Watt Beech Wood LED Pendant Light. This light features a decorative light-coloured beech wood disc that has an exposed bulb hanging beneath it, giving it a timeless industrial look. It attaches to a gold-toned upper portion that attaches to the rod and the vibrant red cord that adds a streak of modern colour.
Add a vibrant pop of colour to your kitchen with the LPL335 20 Watt LED Pendant Light – Up And Down Lighter. The light features two shallow bowl-shaped ends that are facing away from each other. This allows the light to shine up and down, which will spread out the illumination more easily. The light is available in fun colours like cherry red, lime green and lemon yellow, but you can also get it in neutral grey, white and black.
For an industrial modern look, you can't go wrong with the LPL142A 20 Watt Black LED Pendant Ceiling Light. This long, straightforward bar light brings minimalism to new heights. It is particularly well suited for task lighting or as a way to light an entire island all at once. Thanks to its black finish, it won't draw too much attention. Instead, it will fit into the decor and subtly do its job.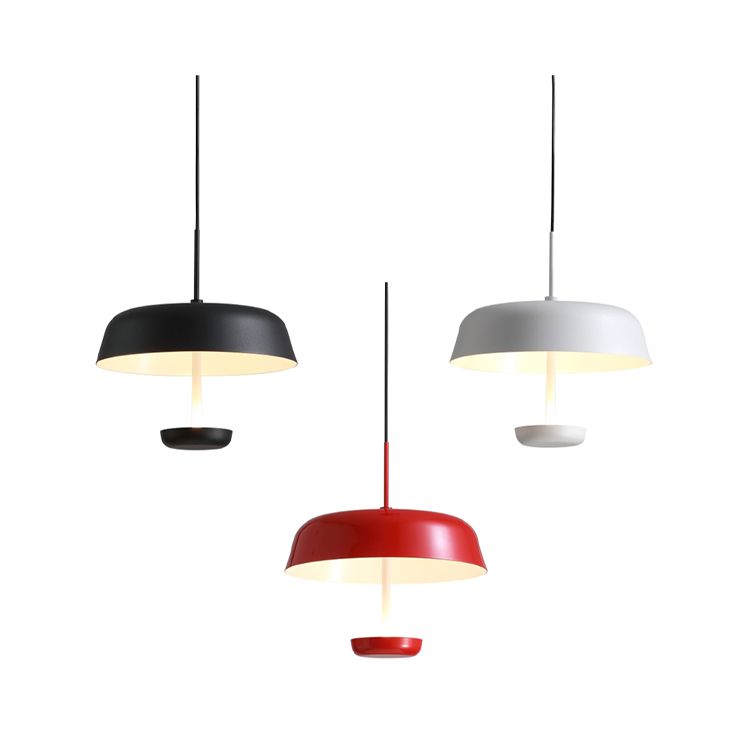 The LPL385 6 Watt Modern Round Hanging LED Pendant Light stands out with its almost umbrella-shaped design. It has a large metal lamp shade at the top with a light-coloured finish that reflects the light down and spreads it out over a larger area of space. The light is well suited for making breakfast bars and islands stand out. Choose from either a cherry red light, a light grey colour or a stark black hue.
Final Thoughts
LED pendant lights are a beautiful way to light various rooms of the house. They are quite versatile and easy to work with, giving you a lot of room to get creative. Above, we explored a few common questions regarding hanging LED pendant lights. We have also offered tips and ideas for how to hang them.