Hotel lighting plays a huge role in the overall appearance and feel of a welcoming place for the traveller who is ready for a break before an evening event or for the remainder of their day after travelling or a concluded event. From room number lights to hotel bedroom lighting to hanging pendant lights in the lobby, the right lighting can set the mood of the establishment and make it both inviting and appealing.
Tips on How To Light a Hotel Lobby
Below, you'll find a few ways to light your hotel lobby:
– Ensure it is welcoming.
Your hotel lobby is the first thing that tired guests see when they first arrive after travelling for a long time. The lighting in the lobby should be welcoming and inviting, making it a place they are happy to spend time. You'll need to choose warm, soft lighting such as 3000k warm white light, which gives off a soft glow that is gentle on tired eyes but still bright enough for your guests to easily see.
– Practicality.
In a space that is used as frequently as a hotel lobby, your lighting should be as practical as it is stylish. Your guests should be able to comfortably and easily move around with their luggage and figure out where they need to go.
You could make the hotel feel more inviting while adding practicality by using wall lights that shine illumination on important areas like wall signs, seating areas, walkways or the front desk. You could also incorporate LED toilet signs in the communal areas. Leaving corners and blank walls in shadows will create a pooling effect that is more pleasant and relaxing.
– Incorporate some drama.
In most hotels, the lobby has the most potential for getting creative with lighting. This is especially true if the space has high ceilings or takes up more than one floor. A small light will be swallowed up by large ceilings, so choosing larger statement lights can make the right statement and be eye catching at once. Choosing large ceiling lights hung at different levels or clustered together create a more intriguing appearance.
– Keep it adaptable.
Lobby lighting has to be versatile since it will be on all hours of the day and night. If the lobby is designed with large windows, you can tie back curtains to let in as much light as you can. This will turn your statement LED hotel lighting into more decoration than anything else during the day but will keep it ready to light up the space at night.
– Make it match.
Consider the rest of your hotel lighting when choosing your hotel lobby lighting. If you have a modern property, for instance, you'll want modern hotel lighting to reflect that and blend easily with the rest of the illumination. Look for light fixtures that add to the overall decor and contribute to the style. This is especially important when considering boutique hotel lighting for your unique property.
– Use LED wall lights as an accent.
Using wall lights can improve the overall aesthetic of the lobby and give the illumination a streamlined and layered look. Many wall lights add a more decorative touch, and they can add stylish, artistic flair to the space along with adding the necessary illumination that is so important.
Guidance on How To Light Hotel Bedrooms
Lighting hotel bedrooms is similar in concept to lighting the lobby.
– Take advantage of wall lights.
Using LED wall lights in a hotel guest room will give the space more decoration while creating layered illumination. They can also be used to draw attention to the various decorative items in the space, such as artwork.
– Don't skip task lighting.
Task lighting such as bedside reading lights can go the extra few steps towards making the room truly comfortable and practical all at once. Placing LED reading lights on either side of the bed also makes the hotel room more convenient for two or more guests sharing a space; if one person is ready to go to sleep but the other isn't, bedside reading lights provide one party with illumination without disturbing the other.
– Provide ambient lighting.
Having lighting overhead will wash the room in illumination in a general sense. Guests can have this light turned on while they are spending time in the suite and can switch to lamps or task lighting as they are settling down for the evening before going to sleep.
– Make the lighting adaptable.
Hotels are subject to rather frequent renovations. You'll need to be prepared to light newly arranged suites when the time comes by choosing lighting that is versatile and works well in different settings. This will save you time having to rewire lights and buy brand new fixtures every time you change the appearance of the room.
– Stick to your theme.
Choose lights that reflect the appearance and personality of the other light fixtures in the rest of the hotel. This will bring its unique personality to every aspect of the property. Furthermore, choosing LED hotel room numbers to place outside of the hotel rooms is a way to continue the visual appeal of the property throughout the entire establishment.
– Add some mirrors.
Mirrors can easily reflect the light around the hotel room and limit the overall number of fixtures you may need to incorporate into the space at all. They are also quite decorative on their own as well as being an appreciated, practical accessory for your guests.
Why Is Lighting Important in a Hotel?
Much like in any other space, lighting plays an important role in decoration, mood setting and practicality. Having proper hotel lighting can influence the mood of the space and therefore your guests.
Lights that are gentle and dim may be soothing to tired guests who want to relax, while lights that mimic natural daylight in the dining area may help them wake up and feel more alert. Most LED lights can be dimmed in a way that standard fluorescent lights cannot, giving you even more control over the appearance of any given space.
Good lighting can improve the overall guest experience by ensuring it is equal parts comfortable and practical. For example, if you have cool white light that is harsh on the eyes in the hotel lobby or suites, it could leave the guests feeling uncomfortable when they're trying to relax. With multiple sources of light in each room, you can create the "home away from home" feeling that makes their stay memorable and makes them more likely to return to your property the next time they are in town.
Proper lighting that makes a room well-lit will also make it look cleaner and more modern. This is especially true of LED lights, as they have a certain crispness that other types of lightbulbs do not. LED lights are also especially good for creating pathways to lead guests to various locations in the hotel, such as hallways, their rooms and communal spaces.
How Much Money Can a Hotel Save by Using LED Lighting?
Whether your property is sprawling and spacious or is on the smaller side, it may seem impossible to avoid large energy bills to keep it lit 24/7. Even so, just by switching your halogen and fluorescent bulbs for LED lights, you can shave costs off of your bill.
LED lighting is known for its energy efficiency. It uses two-thirds of the amount of energy that is taken up by other traditional light bulbs. Since this energy-efficient lighting needs less power to operate, you will be spending less on your electric bills to light up the property.
Not only can using LED lights save money on your overall lighting bill, but the cost of buying the lights themselves is also more cost-effective. Most LED lights are rated for a minimum of 20,000 hours, unlike other bulbs that sometimes last as little as 1,000 hours. You'll need to replace your LED lights far less frequently, saving you plenty of money down the line on the maintenance of your hotel lighting.
How To Create the Best Lighting Effects in Hotel Bars and Restaurants
Much like the other aspects of your hotel, lighting the restaurants and bars is important. There are just as many types of lights you could use in a hotel bar, such as any other space in the hotel, especially in terms of LED ceiling lights. This includes bolder LED pendant lights hanging in the centre of a space or incorporating recessed downlights over the bar to elongate and accent it.
Applying different layers of light this way can make the space feel more comfortable and cohesive while also making walls look wider and ceilings look larger. Lights can also be used to more effectively guide the hotel patrons around the space, help them find their tables and create a clearer path to the bar and comfort areas.
To make the tables more inviting and intimate, you can combine task lighting with the main overhead lights by adding hanging pendant lights above each table or a soft wall light that can create endless possibilities for casting light onto the tables and up the wall.
Pay attention to the brightness and colour temperature of these lights. For a cozier mood, you can choose 3000k warm white lights to make the dining experience feel more intimate. You could also choose dimmable LED lights, so you can change the brightness of them throughout the day and night.
Below are a few products to consider when planning your hotel lighting:
Illuminating the public toilets in your hotel can make it easier for guests to find the facilities. Toilet signs that are well lit also add a more decorative appearance than unlit lights can provide. Because they tend to be sleek, they are especially well suited for use in modern hotels, adding a touch of contemporary charm. These lights also improve the accessibility of the space, as they may make the toilet area more obvious for your guests who may have issues with sight.
LED Hotel Room Numbers bring similar convenience as the toilet signs. Having illuminated hotel room numbers makes it easier for your guests to track down their rooms even in darker corridors, preventing them from having to strain their eyes in order to do so. Hotel room number signs come in an endless variety of styles, shapes and finishes, so you can use them to further enhance the overall decor style of the hotel.
If you like the idea of bedside reading lights but don't want to make the bed areas look cluttered, the Elegante Square Recessed LED Bedside Reading Light is a good choice. This light has a sleek square-shaped back plate with a round light head in the centre.
The light can be pushed in to conceal it in the back plate and tilted outward when your guest wants to use it at night. Tilting the light out will automatically turn it on while tilting it back into the back plate shuts it off. This will leave the bed area of the suite looking clean and uncluttered while bringing modern appeal throughout every part of the room.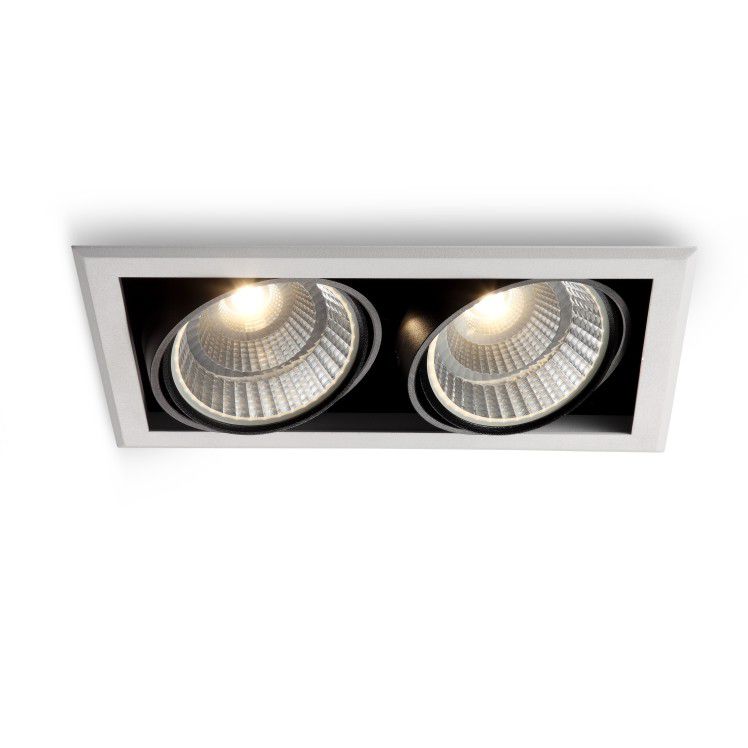 The front desk is perhaps the first area in the hotel your guests will interact with. Using LDC962 24 Watt Twin Modular LED Downlight Fitting over the desk area can draw attention to the area and make it the focal point of the lobby. It also provides enough task lighting for guests to check into their rooms without issue.
This light fitting can be recessed into the ceiling to give the area a more modern appearance as well. With two bulbs in each fitting shining a total of 1800 lumens, this will reduce the number of lights you need to buy to light the same amount of space.
Use lights to make your hotel stand out and give it a more memorable personality. Lights such as the LPL335 20 Watt LED Pendant Light – Up And Down Lighter make a colourful addition to modern and boutique hotels and are sure to be eye-catching to your guests. They stand out due to the array of vibrant colour finishes they come in. This includes yellow, green and red, but also neutral hues of white, gray and black.
This quirky pendant light features a unique shape that is not only artistic but also serves a practical purpose. The light reflects off of the bowls on the top and bottom, which shines light both above and below the fixture at the same time.
In hallways, having proper illumination can make or break your guest's experience. Without enough lighting, navigating the space can feel dangerous. At the same time, you don't want to make the hallway too bright, as it may be harsh on tired eyes. The LWA134 5 Watt Brushed Aluminium LED Wall Uplight provides a perfect solution.
This uplight shines illumination upward and splashes it back onto the wall. The result is enough illumination to see by to guide guests down the hall while still being subtle. Because the light offers a warm white colour, it won't be unpleasant to look at in the middle of the night.
Another great option for a reading light that is more obvious but still not intrusive is the LWA322 3 Watt Recessed LED Reading Wall Light. The light folds out of the rectangular back plate when needed and folds back into the back plate when the guest no longer wants to use the light. The fitting has a cylindrical shape, which adds a contemporary feel when tilted outwards.
The light recesses into the wall, which further adds modern flair to the area on the side of the bed. The product comes in two modern finishes, including a sleek matte black and an elegant chrome finish that makes either finish simple to incorporate into rooms of any design style.